Inquiries about publishing artwork on websites, magazines covers, books, cd covers, and other products are welcome!
BLOGS, E-NEWSLETTERS, NEWSLETTERS, FLYERS:
I invite an exchange in whatever amount you are able to donate. Please understand that it is just a small but very much appreciated way to support my work. I also ask that when possible, the image link back to this website and that the title of the image and "©Beth Budesheim www.PaintedJourneys.com" appear immediately with the image. Please let me know about the image use. Thanks.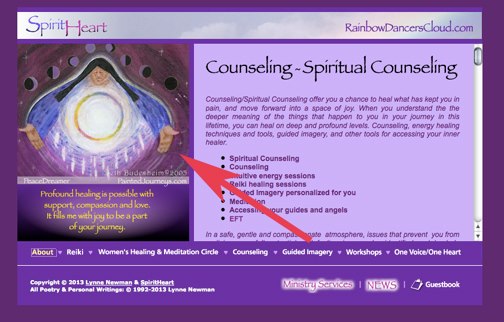 OTHER USES: Website, Business Materials, Products,..etc
Products, book covers, magazine covers, business cards, logos, webdesign..etc Please ask before using any image. Just email for a quick response.

Some image use requires a licensing agreement. Licensing artwork means you are granted certain rights to use or reproduce an image. All of an artist's work is copyrighted and therefore permission must be granted for any use, replication, copying..etc.
I truly apprciate interest in licensing my artwork and am happy to discuss the possibilities with you no matter how large or small your project may be. The information below is basic standard licensing practice, much of which can be found in professional artists guild publications (such as the Graphic Artists Guild- Pricing and Ethical Guidelines).
LICENSING ARTWORK:
The terms and cost of licensing artwork can vary widely and are dependent on:
*the specific rights granted
*how and where the image will be used
*what rights to the image you desire
*the scope & size of your project

*Commisioning an image of any kind (ie..for illustrations, logos..etc) does not automatically include ownership of the original piece of artwork or licensing rights. We will talk about what is needed for your particular case and desires.
*Copyright automatically belongs to the artist upon creation of any work.
*Licensing use is given for a specific length of time but may be renewed
* Free-lance artists , such as myself, earn an important part of their living by the ability to reproduce their work as prints, grettingcards, and licensing for various and multiple uses. Therefore, variations and factors effecting this (ie..you desire more rights to the image..etc) result in higher licensing fees.
*Work for Hire~ Work for hire means that the artist releases ALL rights to their creative work. Under the legal terms for 'work for hire', the artist does not retain copyright, may not display the piece in her portfolio or reproduce the image in any way. The artist's name is no longer associated with the piece, the client becomes the legal author and may even change the original artwork.